---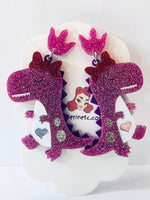 Grab these awesome earrings featuring acrylic flowers, food & more. Each earring is made with acrylic & stud earrings. These are also available in a green glitter variation too.
To care for your earrings - do not immerse them in water (don't shower or swim with them on). Wipe them clean with a dry cloth.
These are approx. 3 inches long.